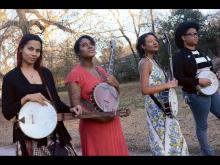 Music producer and composer Dirk Powell pointed to the back of the control room. I was filming him at Cypress House, his studio in Louisiana.
"Rhiannon was sitting right there on that green Naugahyde couch, and I was in that little room playing the guitar, and she had the talkback mic."
Powell was talking about the day before, when he and musician Rhiannon Giddens, who teamed up for the recording of Folkways' new release Songs of Our Native Daughters, were laying down a "guide track" for a song they would later name "Barbados." As Powell stressed, a guide track isn't meant to be saved. Musicians mine the track for its tempo and feel, layering their instruments over the top, before the guide instruments or vocals are redone. It's a first step in recording a song.
Giddens—a native of North Carolina and the lead singer and a founding member of the GRAMMY award-winning Carolina Chocolate Drops—researched the songs and haunting narratives of enslaved Africans. Native Daughters is a collaboration with three other African-American songwriters whose work interrogates history and, as Giddens writes in the album notes, shines "new light" on stories of "struggle, resistence and hope."
"Rhiannon had brought in this handwritten music from the 1700s, the first slave melody ever annotated in the New World, and we started working on it, adding chords to it," Powell says. "She was very close to the mic, and her voice was so unselfconscious and unassuming, her intention so pure, and things got very intense emotionally. We just had to keep it."