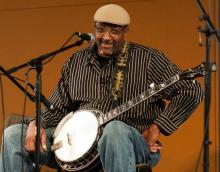 Strains of African-American music beat in the deep heart of bluegrass, from the African-derived tones of the five-string banjo to the blue notes that give the music its characteristic lonesome sound.
At least two African-Americans who play bluegrass and string music – Tennessee picker Carl Johnson and Carolina Chocolate Drops member Hubby Jenkins – will perform at this week's World of Bluegrass festivities in Raleigh. And acoustic-music giant Bela Fleck and banjoist/wife Abigail Washburn will likely explore the banjo's African roots during their duet appearance Friday.
Johnson, 59, a powerful five-string banjo player and singer, grew up in the Virginia mountains. In the segregated South of the 1950s, he came to bluegrass through a family affection for gospel music, a style in which black and white traditions often merge.
"I've been listening to it all my life," Johnson said during a recent interview, referencing the bluegrass stars he heard near Roanoke, Va. "We were lucky because we had Don Reno and Red Smiley on TV in the morning and Lester Flatt and Earl Scruggs in the evening."
Jenkins, 28, a New York-based musician in his fourth year with the wildly popular, Grammy-winning Chocolate Drops, also tours the United States and Europe with his solo mixture of old-time string music, blues and ragtime.
"Definitely in the band, and as a personal mission, I want to bring this music forward," Jenkins said. "We're trying to spark more interest in the African-American community, not just as museum music, but as music for the people."