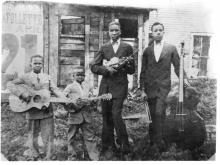 Where are African-Americans in Today's Country Music?
By: Laurie Paulik
They giggled and reached out, trying to touch the big, shiny buckle. The hat too. For sure, they'd never seen anyone like him before. But there he was, one of their own, singing that hillbilly stuff and looking like he rode into town on Trigger.Carl Ray
They were only children but society's prejudices had already seeped in and stolen something from them. Brothers didn't dress like cowboys and they didn't sound like that.
"I just love country music and I'm sharing country music," said aspiring black recording artist Carl Ray. "I'm part of the process of change. It's almost like a Martin Luther King movement without the crowds."
But what's to change? After all, Charley Pride broke the racial barrier long ago, didn't he?
From 1966 to 1989, the hits never stopped. Twenty-nine songs made it to #1 on the charts. And after Charley, there was, well, there was -- who?
Country music today remains the most homogeneous of all musical genres. The industry's myopic vision regarding minority artists not only thwarts the hopes and dreams of individuals, it disenfranchises African-American listeners.
Most damaging of all in the long run, business decisions made on Nashville's Music Row perpetuate the idea that country music fans respond first to what they see, and secondarily to what they hear.
Image is undeniably important in today's country music scene as evidenced by the marginally talented, but good-looking, artists who've achieved success. However, in implying that black is an image white country music audiences cannot embrace, the industry has managed not only to misread its audience and lose potential new stars, but to negate its own history.
---
African-American Presence in Country Music History
African-American influences in country music can be documented at least as far back as the 1920s. Harmonica ace, DeFord Bailey, appeared on the Grand Ole Opry stage in 1926. "Whites and blacks in rural communities in the South played in stringbands," said Frankie Staton, head of the Black Country Music Association. "Jimmie Rodgers, the father of country music, learned guitar from black laborers he worked with."
Robert Johnson was a black blues musician and contemporary of Jimmie Rodgers. Retrospective boxed sets of music from both artists are available today. "If you go back and play those two boxed sets, they're not very different from each other in sound. And you begin to understand, first hand, why they call country music the white man's blues," said Tom Roland, music columnist for the Nashville Tennessean. "Hank Williams was taught by a black street musician called Tee-Tot. In fact, the near inseparability of early country music and early blues is now documented in a 3-CD compilation released by Warner Bros. in 1998. Called "The Black Experience: From Where I Stand," the album presents 52 black artists' contributions to country music and includes not only African-American artists primarily known for their contributions to the blues, but those such as Charley Pride and Cleve Francis, who identified themselves solely as country artists.
---
Charley Pride - an Anomaly
Though many African-Americans have contributed their talents to country music, only Charley Pride has ever achieved true and lasting success. His career is even more remarkable when one considers that he entered country music in 1966 during a period of great racial unrest in this country.
Why was he successful when all others have failed?
"Charley Pride made it because Chet Atkins stood up for him," said the BCMA's Staton, "They didn't put his face on his album covers. They put out this album by a brother and nobody knew he was black."
Roland agrees, "They didn't send out any publicity photos, which is unusual. The idea, I'm sure at that time, that an African-American artist might even be trying, was absurd. He was really country, particularly when he started. He was called 'Country' Charley Pride the first few records. And, in fact, though Jack Clement was producing him, they put the names of four different producers on the records, the first couple of albums, just so people would know that there were a number of high-powered executives who all believed in this performer.
"So, radio stations were playing his records before they discovered his ethnicity and, at that point, how do you get off the record? How do you pull it without labeling yourself a racist? So, it was kind of shrewd on RCA's part because once they're on it, they can't just jump back out."
The approach taken by RCA in launching Charley Pride's career indicates that executives feared racism in their audience and media outlets. It will never be known whether Pride would have succeeded had he been presented as other artists of the day were. The instant communication of today's world, as well as the business climate in Nashville today, ensures that no new careers will ever be launched that way.
While one can list some of the reasons Charley Pride succeeded, explaining why all other African-American artists have failed to establish themselves is a much trickier proposition.