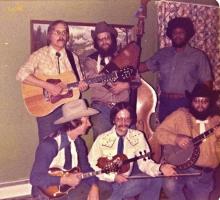 I found this surprising reference in the  Jerry Douglas Bulletin Board Archives.
Several years ago when searching The Internet I ran across this posting made by the guy I bought my upright bass from. Since that time I lost track of the posting but a little while ago I re-discovered it.  It follows here:
Subject: RE: Black Banjo Conference-very cool!
Poster: Daver
date: 30-Jan-05 08:32 PM

Thanks, Derka. I don't know all the reasons, but it's sad that there are virtually no African-Americans in professional Country Music (to my knowledge, only Charley Pride and bass players for Mary Chapin Carpenter and Russ Taff), and zero that I'm aware of in bluegrass. Please fill in the blanks if I'm missing someone obvious... A Chicago area bluegrass group in the 70's (the Unity Bluegrass Band - all members of the Bahá'í Faith) had an African-American bass player (I sold him my old Kay upright for the $80 I paid for it). Up until IBMA when I ran into the Ebony Hillbillies, he was the only African-American BG musician I had ever seen.
Guess I'm pretty unique.  *G*
Update: 6-16-13 - just checked the link of this message post and it no longer exists, it was good that I copied it here, otherwise it would be lost now and can't have my history disappearing on me...