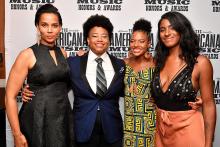 Imagine a world where, in the wake of the Black Lives Matter movement's recent resurgence, country music's headlines were not dominated by chatter regarding Lady A and the Drive-By Truckers' ham-handed attempts at reconciling the negative connotations of their band names. Imagine an industry in which a multitude of Black country stars, buoyed by the passion of protesters worldwide, boldly launched into hard, but necessary, dialogues with the genre's majority non-Black fanbase.
Of course, this idyllic version of events did not occur — but why? And how does the genre achieve essential course correction for Black artist visibility in an immediate, profitable way?
Quickly making space for Blackness in greater abundance in country music does not require discovering brand-new Black artists, then integrating them into the genre's finest traditions. There are already a greater number of Black stars than those currently established who can showcase themselves via their songs, voices, and supergroups, and through songwriting that appeals to the ethos of the country audience and this, or any, societal moment.
Country music has celebrated and currently celebrates a few Black stars: DeFord Bailey, Charley Pride, Mickey Guyton, Jimmie Allen, Yola, Rhiannon Giddens, and a handful of others. However, overall, these performers are the footnotes and commas, rather than the subjects and periods, in the annals of country music history. They've thrived within mainstream country music, but without its commercial acceptance.
Photo: Erika Goldring Getty Images