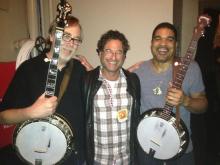 My wife Jess started playing banjo before I did. When she was away working in Africa for a year, I started messing around with it. I've loved bluegrass music since I met Col. Bruce Hampton in the late 80's and in '88 I actually lived with banjoist Jeff Mosier. He tried to get me into it back then, (I was 24) but I was too intimidated by the tuning and putting finger picks on. I felt like being on Mars. He was the first one to inform me that the banjo comes from Africa. I never would have thought. 22 years later I finally took his advice.
I learned my original bluegrass rolls watching YouTubes, then I got a couple of Tony Trischka instructional videos. Later, thanks to my buddy David Wolff, I actually got to meet Tony, take lessons from him, and record with him. As I started to delve more deeply into the instrument I was turned on to Bela Fleck's documentary called Throw Down Your Heart, about the African Roots of the banjo. It was instrumental in the formation of my personal approach. Since I was already familiar with various kinds of African music and rhythms it makes me curious about trying to approach banjo in that way. I also saw a documentary on PBS (which you can watch in it's entirety on their website) called Give Me The Banjo. Its a fascinating history of the banjo's migration to this country and it's subsequent evolution. Turns out Tony Trischka was the musical consultant for the show.
I was thrilled to learn that there were black banjo players from North Carolina like Odell Thompson and Dink Roberts, that actually played mountain music! And that their tradition continues till this very day with musicians like the Carolina Chocolate Drops. Dom Flemons, who sings, plays banjo and other instruments with the Chocolate Drops was a help to me in my journey through this tradition. He gave me a bunch of CD's of the old black string bands. These players play a style that is today called "claw hammer'. It is precisely the same technique still used to this day in Africa by Akonting and Guembri/Sintir players. No finger picks are used and it definitely incorporates more of a hammering motion on the downstroke rather than picking, to play the melody.