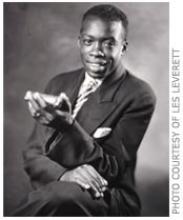 Deford Bailey was the most influential harmonica player in the first half of the 20th Century. Despite such acclaim, Deford dies quietly without recognition of his place in American music history...
Black Hillbilly Music
DeFord's family played tunes that were part of a rich tradition of string band playing shared by both blacks and whites in the early nineteenth century.
"White and blacks would be playing music and dancing at what you'd call a barn dance—you clean the ground off and put sawdust down on it and make it soft where you can dance. Well, they'd look out and see the Baileys and they'd say, 'Here come the Baileys, we'll turn the thing over to them. They would usually have a fiddle, guitar, banjo, harp, mandolin, and drums.'"